The Corner Perk
Hilton Head Island
The Corner Perk
Hilton Head Island LOCATION
Corner Perk Brunch Cafe
45 Pembroke Dr #120 Hilton Head Island, SC 29926
Current Hours: 07:00 am – 03:00 pm
Your Go-To Hilton Head Spot for Coffee and Relaxation
At Corner Perk Coffee, we believe in brewing much more than a cup of Joe. For us, coffee is a way to bring people together, to get inspired, and to connect us with our world. Whether you're coming in for a morning latte on your commute or you just want a place to hang out and watch the world go by, Corner Perk is always available.
We're so proud to be a part of the Hilton Head Island community – a place that recognizes the wonderful impact of the natural world around us. Our new location will be able to serve vacationers and locals with the same pride and attention to detail we provide at all of our locations. We invite you to come join us and share a cup of delicious coffee while you're here.
Our Story
Most coffee shops buy pre-roasted beans from suppliers and brew them for customers in-house. However, although our brand is expanding, we believe in participating in every step of the coffee-drinking process, from sourcing our beans to roasting them to perfection. When you drink a cup of Corner Perk coffee, you know that it's the best possible brew we can create.
Corner Perk was born out of this passion for coffee, and we wanted to share this passion with those closest to us. As South Carolina locals, we believe in building communities, and we know that sharing excellent coffee is a fantastic way to do that.
Our founder, Josh Cooke, is very hands-on with the entire process. He'll fly to farms in South America, meet with the farmers, sample the beans, and then decide whether they're worth bringing back home for roasting. This dedication and attention to detail is a big reason why we've been able to expand and share our passion with more people.
The other reason we connect with local growers on the other side of the world is that we believe in fair trade and equitable profit sharing. You may never meet the farmer who grew your coffee beans, but you can be sure that they'll benefit from your enjoyment of it.
Experience Culinary Bliss with Our Brunch and Lunch Delights
While coffee is our passion, we also want you to sit down, relax, and have a bite to eat. We cater to both busy professionals and vacationers who have nothing but time on their hands before heading to the beach or some other relaxing locale.
We serve brunch and lunch every day, and you'll surely find something you'll love. Our dedication to robust and delicious flavors doesn't stop with coffee beans – we put that same energy into everything we make.
If you're hungry in the morning, we highly recommend trying one of our skillets. These all-in-one breakfasts have plenty of food that will fill your belly and satisfy your tastebuds. We offer shrimp and grits, eggs and bacon, and even a veggie skillet if you want to eat on the lighter side. We also serve huevos rancheros if you like to kick things up a notch. Our breakfast has been named "Best Breakfast on Hilton Head" by Lowcountry Style and other travel and destination magazines.
In addition to skillets, we have sandwiches, breakfast burritos, and artisan toasts. This way, whether you're eating light or want a full meal, you have plenty of options either way.
For lunch, we have some incredible sandwiches, salads, and wraps. We invite you to enjoy your meal with us, but if you're on the go, we're more than happy to make it travel-compatible.
Our Coffee Beans
At Corner Perk, if a cup of coffee doesn't meet our rigorous standards, we won't serve it. We are meticulous with how we source, roast, and brew our beans. We work with small farms in South America, and we have a delicate roasting process to bring out as much flavor from each bean as possible.
As far as the types of coffee we serve, we always have lattes on the menu, which you can dress up with a variety of syrups to make them even tastier. You can also get any latte hot or cold, which is always appreciated during the hotter months of the year.
We also serve espresso, cappuccino, macchiato, Americano, and a delicious flat white coffee. If you haven't had a flat white before, we encourage you to try it at least once. It could wind up changing your life and redefining what your idea of a good cup of coffee is.
In addition to our regular rotation of beans, we also serve different batch brew blends and pour-over coffee. Since these options change regularly, you'll need to ask the barista what's in stock. If you're a coffee lover with a bit of an adventurous side, we recommend sampling new brews often to expand your palate and discover the full range of brew options.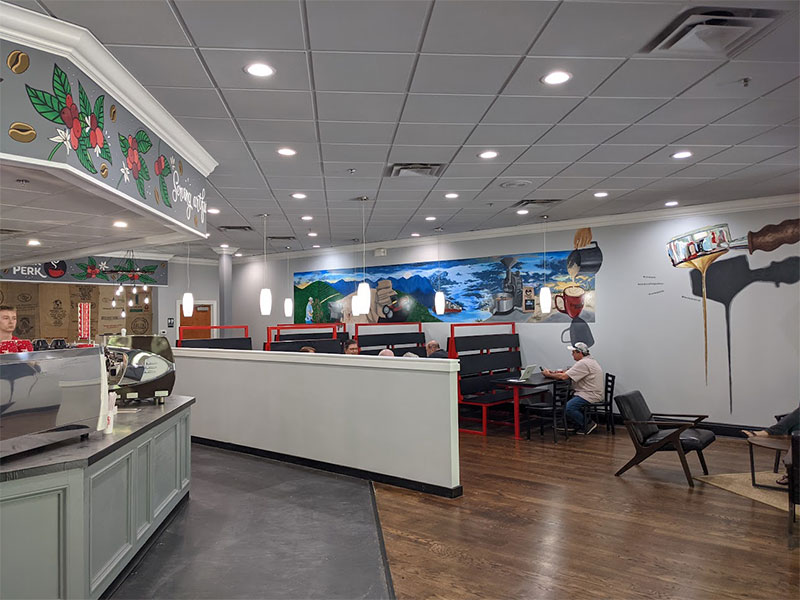 The Atmosphere of Corner Perk
Corner Perk is a local Hilton Head coffee shop, meaning we welcome anyone and everyone. Our shop is a place where you can feel free to kick up your shoes and relax, or just grab and go on your way to the office. Our staff members are friendly and upbeat, and they're willing to help out whenever necessary. If you have a question or are looking for a new coffee recommendation, we're more than happy to assist you.
For those who like a casual coffee-drinking experience, spending time at Corner Perk is almost like hanging out at a friend's place. The atmosphere is just as fast or slow as you like it, and you'll always walk out the door with a smile on your face, no matter how you come in.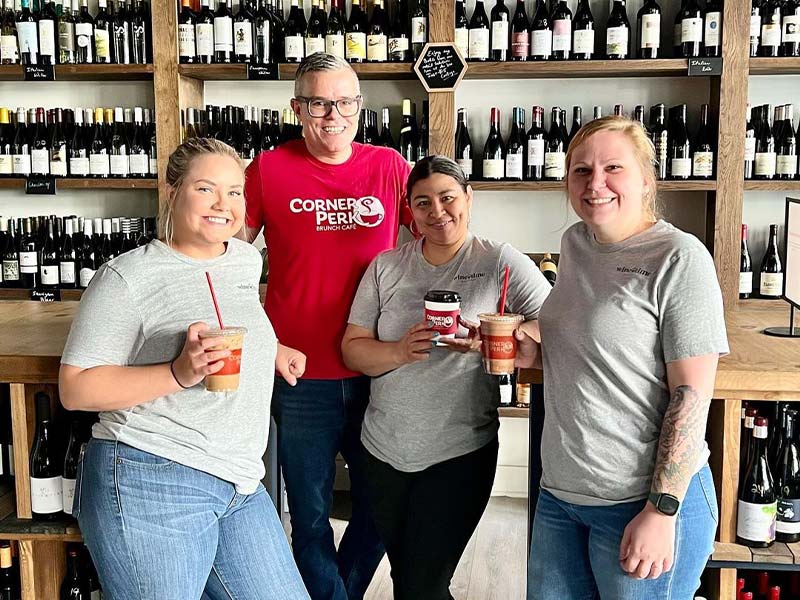 The Community of Corner Perk
Since we're from South Carolina, we love connecting with fellow Lowcountry locals and natives. We also appreciate receiving guests and visitors from around the world. Our community is at once both small and massive, as we try to connect with everyone who comes into the shop. Even if you're only in town for a day or a weekend, we want to leave a lasting impression so that you'll come back whenever your travels bring you nearby again.
So come on down to Corner Perk for a delicious cup of coffee. You'll be glad you did.
Experience the Rich Flavors of the Lowcountry
Join us at The Corner Perk to indulge in our exceptional coffee and be a part of our thriving community.