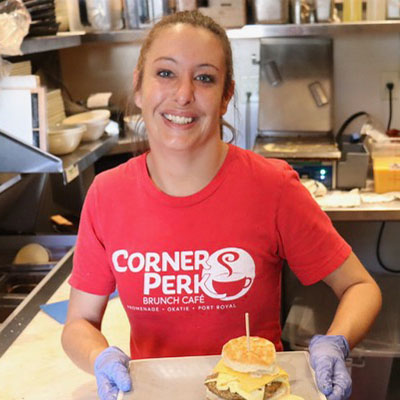 Sarah Lightsey
Port Royal General Manager
Born and raised right here in Beaufort, Sarah joined the team in 2022. She learned every role in the company quickly and was promoted to GM within 6 months due to her drive and professional demeanor! She is one of the most reliable employees you'll ever find, and goes above and beyond for her team and our guests every day.
Her go to Corner Perk brunch item is the Veggie Skillet. Her drink of choice is a hot cup of Pluff Mud, black of course. And, her favorite part of working here is you, the guest! And, she aspires to always be better than she was yesterday.
As a kid she used to put Miracle Grow in her shoes because her brother told her it would help her grow. (No, it didn't work.) On a Friday night you will find her with her boyfriend out on his sailboat or on her front porch watching the rain. She is passionate about books and her favorite genre to read is mystery/thriller. So, send over all of your book recommendations (along with any questions, comments or concerns about our Port Royal location) to cornerperkportroyal@gmail.com!