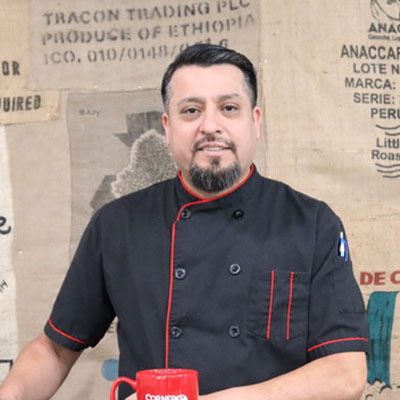 Lucio Perez-Diaz
Executive Chef
After growing up in the remote town of Guadalajara, Mexico, Lucio made his way over to the US in 1995. He met his wife Christina in Minnesota where they got married and had 4 awesome children. He moved his family down to the Lowcountry in 2012, where he became a regular at our original location down on Burnt Church Road in Old Town Bluffton. He joined the team in 2014 and quickly proved his worth beyond compare!
The man has a work ethic that is completely unmatched and the positive attitude to back it up. He's the first to arrive every morning and the last to leave every afternoon. His servants heart truly shines through in every thing he does. He helps create our made from scratch recipes, manages food cost and inventory, trains and inspires our kitchen staff in every location, and keeps all of us laughing!
Lucio has 3 drinks a day: He starts his mornings with a cup of Pluff Mud. For a mid morning pick me up he orders and Iced Mocha Latte. And, for his afternoon drive home, sweeeeeeet black iced tea! When we can actually convince him to cook something for himself; it's an Avocado Chorizo Burrito.
He's passionate about his faith and his family, that much is obvious. On a Friday night after he finishes watching his favorite show, CSI: New Orleans, you'll catch him feeding his neighborhood raccoon, Travieso (which means trouble maker in Spanish) in hopes to make one a pet some day! He loves fishing, playing frisbee golf, and building legos in his free time.
If you have any recipe suggestions, or questions and comments on the quality of food you've received at any of our locations please reach out to him at cornerperkchef@gmail.com.