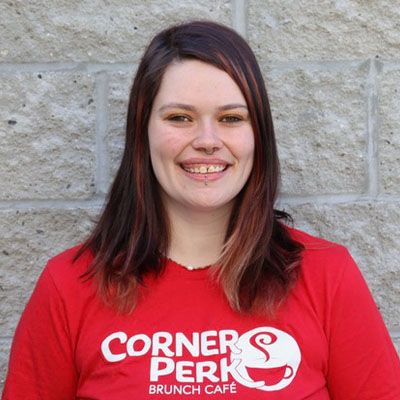 Kelly Rea
Productions Manager of the Roasting Warehouse
Kelly has been with the company since the summer of 2021. She multi-tasks like a boss and thrives in the chaos of a busy day. But, we quickly realized her niche for organization upon noticing any time there was a lull in business we found her deep cleaning and reorganizing. So, we put her skills to use behind the scenes! She manages all of the inventory for our Roastery as well as bags, packages, and ships our coffee all over the country. She is the point of contact for all of our wholesale clients, and so much more.
Her favorite brunch item is the Basted Eggs. And, her drink of choice is the Lavender Cold Foam. Her favorite part of working here is the potential for growth and how much she has already grown since joining our team. And, she aspires to continue to push herself outside of her comfort zone in order to grow more mentally, personally and professionally.
She is a Harry Potter super fan! (Her favorite character is Luna Lovegood). If she had to pick a favorite animal she couldn't choose between frogs, sea turtles or manatees. Like a true Lowcountry native, she loves to go hunting for fossils and sharks teeth, and has found over 4,000! On a Friday night you'll find her curled up on her couch with a coloring book and her cat, Gillyweed.
If you're interested in serving our coffee at your business or restaurant, or would like to purchase some beans for a special event reach out to Kelly at cornerperkroastery@gmail.com.