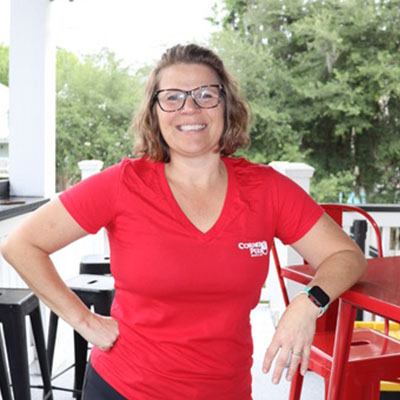 Heather EnYart
Promenade General Manager
Originally from Portland, Oregon, Heather made her way to Bluffton in 2017 after a few pitstops along the way. With 26+ years of experience in the coffee world, she joined our team in 2022. She bring the energy every single day. And, is considered more of a cheerleader than a manager around here. She can turn any bad day around. And, her passion for people really shines through in everything she does.
Her favorite thing about Corner Perk is both her coworkers and customers! "The relationships built from these day to day interactions will last a lifetime, and that is nothing short of amazing. These people truly become family and that is a feeling that can't be beat!" Her favorite menu item depends on her mood: French Toast with a side of bacon is she's feeling sweet. Or, the Freshie with bacon if she's in a savory mood. (Obviously, everything is better with bacon.) She typically drinks black coffee but when she's feeling fancy she goes pinkies out on a Lavender and Honey oat milk Latte!
This old school gal collects books and DVDs that she finds for dirt cheap at thrift stores "in preparation for the day the information superhighway shuts down." On a Friday night you'll find her binge watching Criminal Minds with her husband and youngest daughter before she leaves for college. (They're only on season 3 and have a lot of catching up to do in the next few months.) She's been to all but 6 states. And, plans to take a spiritual journey with her older daughter to walk the Camino de Santiago one day soon (inspired by the movie The Way).
For any Promenade related questions, comments, concerns, or travel advice reach out to Heather directly at cornerperkpromenade@gmail.com