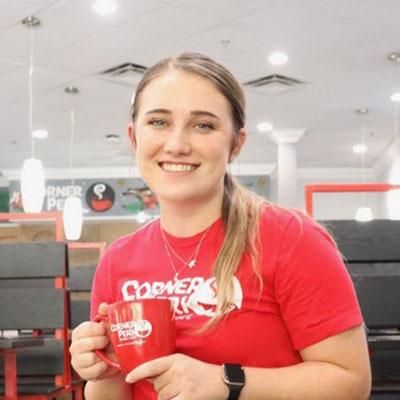 Aubrey Cassidy
Hilton Head General Manager
Originally from Atlanta, Aubrey moved to Bluffton for college back in 2018. She started working with us in 2021 before graduating from USCB with a Bachelor of Arts. (She's a Ceramicist!) She had no prior food and beverage experience whatsoever before starting with us, and completely blew our minds on how quickly she learned everything we threw her way. When our new Hilton Head location came to fruition Aubrey was ready to rise to challenge of GM and has surpassed all expectation!
Her go to CP brunch menu item is The Basted Eggs. She loves to drink the Tiramisu Whipped Cold Brew. But, her favorite drink to make is a hot latte. I asked her what her favorite part of Corner Perk was. And, her response deserves a direct quote: " My favorite thing about Corner Perk is the people I've met working here. Some of the most amazing people I have ever had the pleasure of meeting have been right here at Corner Perk, whether it be a regular or one of my co-workers. I also love that we roast our own coffee. I've loved learning that whole process and I think it makes us unique!
She laughs so often that we've had to create a decipher code for her "laugh language!" On a Friday night you'll catch her watching New Girl or The Office after watering her oversized collection of house plants. (I'm kidding. Can you ever have too many plants?) On her days off she enjoys going to the beach with her boyfriend. She loves elephants, and even has a tattoo to prove it! Her greatest asset and biggest downfall is her tendency to deliver and expect perfection. So, if you encounter anything less, or want to recognize an employee who went above and beyond, you can reach her at cornerperkhhi@gmail.com.